The bears stroked the crypto market during yesterday's opening hours. The price counters were soon spotted changing digits in haste, and that was not favorable. The traders were anticipating that the same might last for a day, and today, the BSV coin might be adopting the recovery.
The market couldn't resist the fall and continued today as well. Yesterday, Bitcoin SV price was spotted, touching a high at $234.23 and a low at $196.33. Today, the currency has reached $201, but then it again started the downward movement.
Yesterday, the price was at $232.49 during the opening hours. The currency started with a downfall, and in the first 6 hours, the price dribbled to $225 by 2.92%, and then, it immediately escalated to $228 and hanged at the same level till 12:00 UTC.
Bitcoin SV Price Forecasts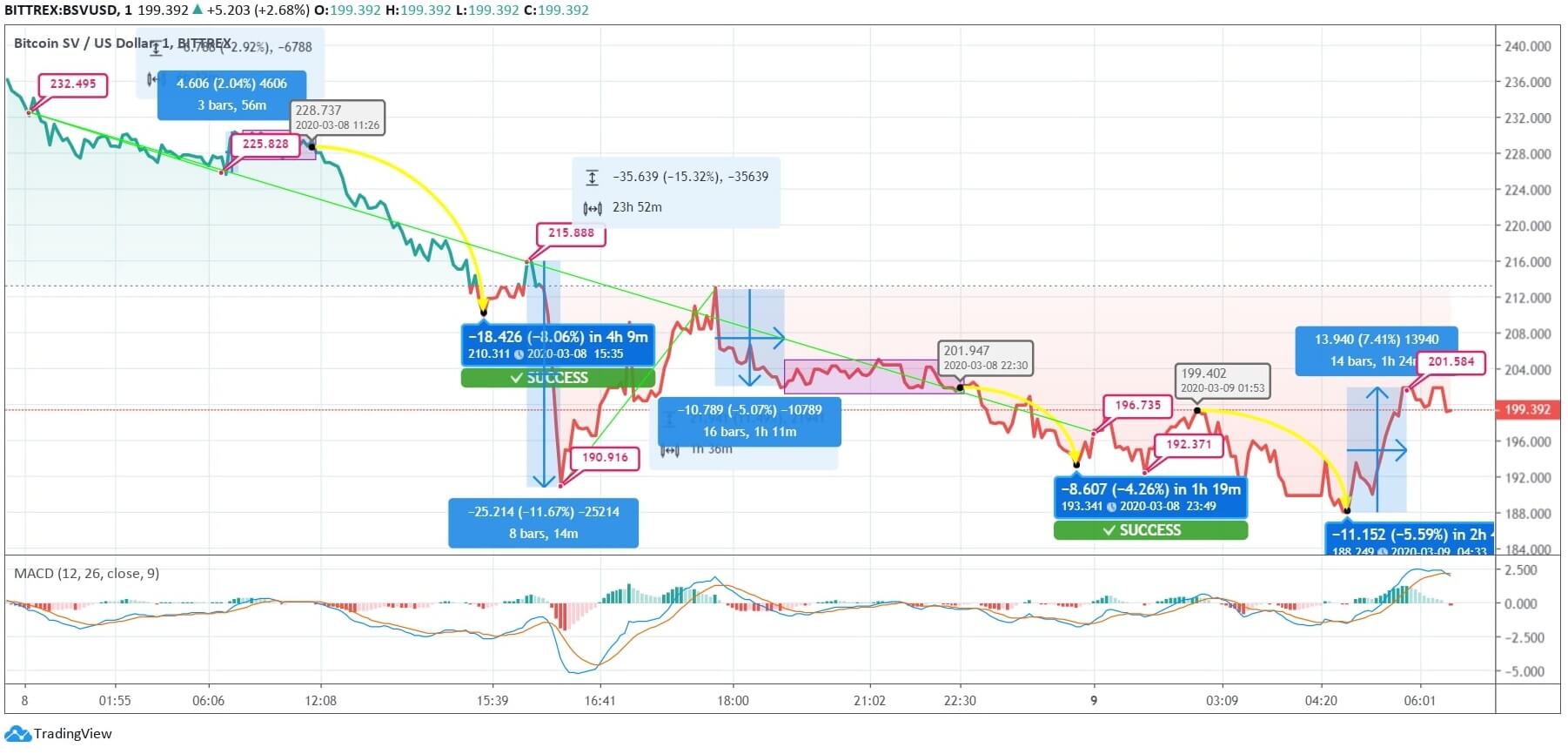 Further, Bitcoin SV took a deep dig and touched $210 at 15:35 UTC. After a slight recovery to $215, the coin plunged heavily to $190 at 16:17 UTC. However, the price immediately recovered and touched $213. The BSV coin couldn't hold itself at the same level and dropped to $202. Bitcoin SV price hovered at the same level till 22:30 UTC. Before closing, the price dropped to $193, and the day ended at $196. The day-long movement brought 15% regression at the price of Bitcoin SV.
Today, the currency started with a slight drop, and it reached $192 from $196 but soon recovered to $199. All this took place in the first two hours. Later, BSV coin dribbled to $188 at 04:33 UTC. The price improved to $201 and is still hovering around the same level.
The MACD chart was reflecting bullish divergence in the last couple of hours. Recently the signal line overlapped the MACD line creating a bearish crossover. Also, the histogram has slightly slipped below the zero line. The current price of Bitcoin SV is $199, and it seems quite near to the next support level at $184. The same could be breached in the coming hours.